YouTube SEO | How to Rank YouTube Videos in 2021
Study how to do YouTube SEO to rank your YouTube videos yourself through this article. To help you customize the essential elements of YouTube channels and video. In the ranking efficient as possible, people search for a video with a keyword related to your video on the YouTube website.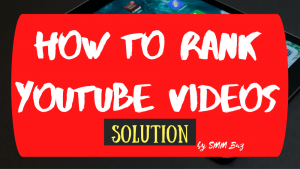 What is YouTube SEO?
YouTube SEO deals with video optimization, channel, metadata, playlist, and description (internal and external searches).
Additionally, one of the best ways to do SEO YouTube is to optimize your YouTube videos' content by optimizing the text in the subtitles, closed caption, and Transcript.
How to do YouTube SEO?
The things we need to customize and focus on for YouTube SEO are as follows. YouTube Video Length, In the beginning, views are an essential part of determining an algorithm's ranking. The more views you get, the more likely your video will be at the top of the search results.
However, YouTube has recently changed that policy. With consideration of other additional components, including
Number of comments
Number of likes
The total amount of time watched
Number of shares to social networks.
These metrics will help you improve your ranking on YouTube SEO. The guidelines we need to focus on to achieve these metrics are: Make your audience feel like they are engaging with your video, and with you as long as possible.
You need to create fatty videos that are valuable to your audience. Although there are no rules, the video's length should be "no less than 1 minute" for two reasons.
The more suitable length of your YouTube video, the better. The longer you keep the audience with you in a video, the more likely you are.
YouTube bot sees videos less than 60 seconds as spam.
"Create videos with valuable content and the right length. what you should do. "
YouTube Video Title:
One of the most common SEO YouTube mistakes is that many people are not good enough to name. Both in the section of "video file" and "video title".
If you do not describe the video or content on the video file, "Before uploading the YouTube bot will not understand what your video is about.
To add details of the video file name and description, do so by
Right-click on the video file, select "Properties".
Put the name of the video file you want in the File Name and Title section with the Primary Keyword and Secondary Keyword.
Write a secondary title in the Subtitle section with other secondary keywords (unique to File Name and Title).
Set Rating as five stars.
Put different keywords related to the content in the video in the Tags section.
Enter a description in the Comments section of what the video about is.
Save
NOTE: You can also add additional insights (if desired), for example, in the
Media:
Contributing artist
Year
Genre
Origin:
Directors
Producers
Writers
Publisher
Content provider
Media created
Encoded by
Author URL
Copyright
Content:
Parent rating
Parent rating reason
Composers
Conductors
Full stop
Mood
Part of set
Initial key
Beats-per-minute
Protected
Some of the content in the video is quite a technical term. Find more knowledge on Google.
"After uploading the file before publishing, make sure the video title on YouTube, your video files to the title is the same. "
YouTube Video Description:
These very important YouTube SEO tips link YouTube videos to your website arriving page or Social Network Profile. It will also help encourage viewers to take more action on your brand. To "attach a link in the video description", such as reading more information. Ordering products and more
We are optimizing the rest of the video descriptions.
Make sure write your descriptions are unique. Google doesn't like duplicate description info. Videos with repeated explanations are penalized.
The description should be you can write a maximum of 5000 characters.
Use secondary keywords in your description.
Each keyword should be used only once in the description. Otherwise, you will be penalized for intentionally overtaxing your keywords.
Add Timestamps to Each video:
YouTube currently shows what's known as key moments on its search results page. Users can choose to watch a specific part of the video. You can create timestamps on your videos at any given moment, one of the factors that can help you to rank higher on YouTube search results and stand out from the competition.
There are three parts to adding Timestamps.
On the video player
In the video description
In the comments section
Create a YouTube Playlist on Your Channel:
The playlist is the last step once the YouTube SEO tips video has been uploaded.
This will help categorize the videos on your channel. It also provides further explanations for viewers to understand what your video is about. Make sure to create a new playlist for each video and add relevant keywords to the playlist name.
Example
Primary Keyword
Secondary Keyword
Video File Name 
YouTube SEO – How to Rank Your Video
Video Title
YouTube SEO – How to Rank Your Video
Video Description
Use other relevant keywords. It is an element: YouTube SEO, SEO YouTube, How to Optimize Video, YouTube Marketing, Youtube Video SEO, Video Marketing, etc.
Playlist Name
YouTube Marketing, Video Marketing, SEO for YouTube
Video Thumbnails Preview:
YouTube video thumbnail is a great way to get attraction from viewers so include an eye-catching screen picture can create a First Impression than automatic video choice. Because we can customize the image as required.
You can add a preview image that lets your audience know that. What is your video all about, and why should they watch it? That will increase your Important video through rate (CTR). To create a custom preview, click on "Custom Thumbnail" located on the "Upload" screen.
Four things to keep in mind when creating a video preview:
Make sure that You resize the image to 1280 x 720.
The image file size must be less than 2MB.
Use bright colors or a combination of two bright colors. That will help your video preview stand out against blue links and white backgrounds On the Google Search results page.
The image file type must be .JPG, .BMP, .GIF, .PNG.
Customize Your YouTube Channel:
On your channel profile page, You can enter information to notify the Youtube bot about your content. Make sure to fill out any important information in every section of the page. Improvements to enhance the performance of the channel profile page. It will help improve your video ranking In search results.
Four pieces of information that you should customize:
It would be best for you if you had a background and profile picture to help users understand your channel.
Screen image of Chanel:
Google's primary focus is on enhancing the user experience. So when adding pictures, Operation through the SEO Best for pictures Is to set the file name, image, example channel name – business name -keywords.jpg
Description:
This is another way you can send signals to search engine bots. To make it easier for them to understand your videos.
Use your description thoroughly and use a few unique secondary keywords in your description at the beginning of the sentence.
Links:
Add video URL to your website and social media pages. This helps to improve traffic to relevant content.
Links also allow search engines to link your videos to your website or business as well.
Subscribe:
This is what we're going to use to get a better sequence of our videos in the same video category.
Subscribe to popular YouTube channels related to your video. With similar content, Google and YouTube bots will get a better understanding of your video content.
Share YouTube Video on Social Media:
Generally, SEO's legacy will be involved in the field. Website Structure, Content, Website Speed, Code, Keyword Density, and Backlinks.
But due to the influence of social networks today, Google has to integrate relevant information from social networks into its Algorithmic consideration To the current rating.
There are a lot of things Google looks for, such as checking the relevance of information. With the main focus on the user experience.
If you want your video to rank higher on Google and YouTube, you need to gain a huge number of YouTube views on video via share the video link on social media or you can buy YouTube views. The share video URL on Social Media In the following way.
YouTube channel syncing with Facebook, the Twitter account automatically means that when new videos are uploaded. It will be automatically sent to each of these social network accounts every time. (In the name of the brand)
Post to your social network account.
Buy video sharing services to popular social network accounts.
Create Backlinks For Your Video:
It will help your video get indexed on Google in 2-3 minutes with all the tips above.
To rank highly competitive keywords such as YouTube SEO, SEO for YouTube Professionals, you must include backlinks to your video URLs.
Assume you can do it right. That way, your videos will rank better for a specific keyword. However, if you make a mistake, your video will be given a better rank for that particular keyword. But your video will be marked as spam and immediately removed from indexing.
Advice
By creating a few links at once in as little as 3-4 links per week, you can publish your YouTube video link to a blog, Pinterest, Tumblr, Web 2.0, and email signature. Also, be sure to include your video on your website. Type a message.
The YouTube video ranking process is similar to that of a website. The main factor is the backlink pointing to your video. However, YouTube has one other factor: the number of websites that embeds your video to be taken into account.
Backlink Building & Video Embedding for YouTube SEO:
Share on Social Media: Like Facebook, Twitter. etc
Post on the Website: Create unique content related to your video and add a link to the video or embed it. In that context, and make sure your content includes keywords that are relevant to your video.
Post on Your Blog: If you don't have a personal blog yet. It's time to create it with relevant content. And then set a link to your video. Or embed a video in that content.
Guest Post: Write an article on your blog or affiliate website, attach a link or embed a video to it.
Post to multiple web threads.
Submit to various web directories and business profiles